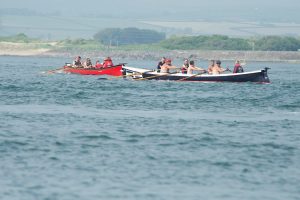 Five Gig clubs took part in the annual Two Bridges race on Saturday, with seven boats in the men's race and six in the ladies race.
Conditions were good for rowing, with calm seas and light winds. The event started at Bideford new bridge, with the men's crews battling against the rising tide on the river Torridge until they turned into the river Taw, where the rising tide helped to push them towards Barnstaple. Appledore lead the pack most of the way in 'Whitford' to win the men's race, with some exciting close racing behind them. Barum's 'Lady Freda' had a close race with Bude's 'Bedehaven', eventually finishing in fourth place with the second Barum boat 'Nipper' in seventh place.
The waiting ladies crews took over the boats after the men crossed the finishing line at Barnstaple new bridge, which was also the starting line for the ladies race. The ladies raced back to the Anchor slipway at Appledore, again led by Appledore's crew in Whitford. Barum's ladies were third in 'Nipper'.
Appledore have now won two years in succession, will next year make it three?
Clubs and boats taking part were:
Appledore (Whitford and Verbena)
Barnstaple (Lady Freda and Nipper)
Bude (Bedehaven)
Clovelly (Christine H)
Torridge (Will-to Win)